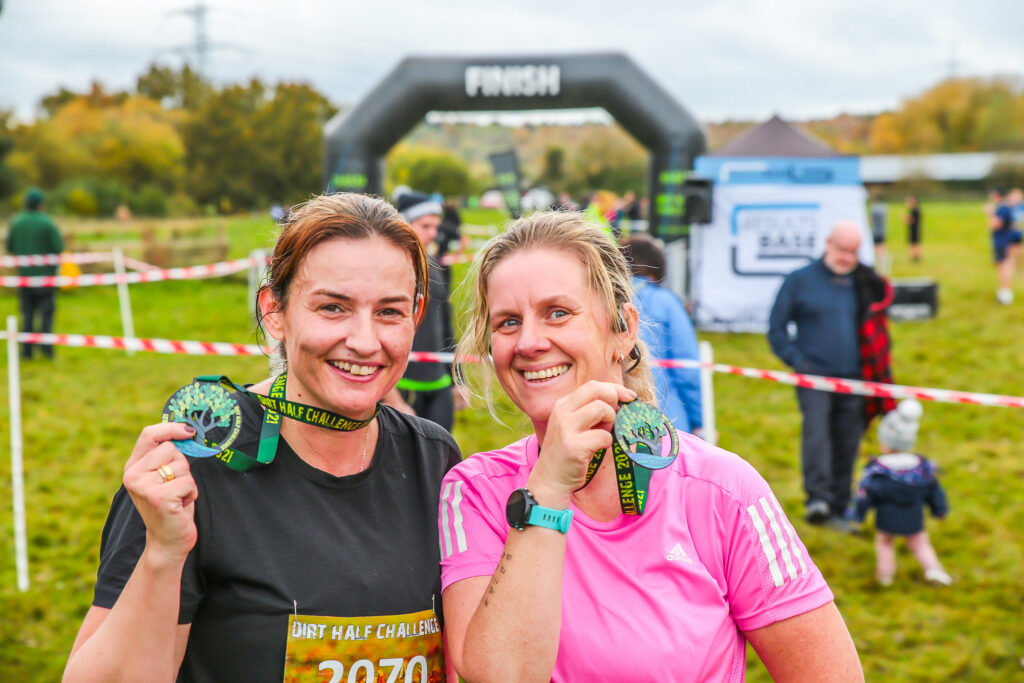 Runners have been getting mucky and loving it in the Dirt Half Challenge by trail specialists Dirt Running. The latest edition of the popular half marathon trail race took part on Saturday 13 November.
The route is mainly off-road on country trails and towpaths from Leighton Buzzard with a significant hill at halfway. Competitors pass through Tiddenfoot Waterside Park and head north to Stoke Hammond before the 200-foot climb to Great Brickhill Woods, returning via scenic Rushmere Country Park, along Greensand Ridge and the canal towpath.
The race was won by Jamie Farmer of Leighton Buzzard Triathlon Club in a time of 01:19:11, followed by Antal Farago in 01:26:44 and Michael Furness of Leighton Buzzard AC in 1:27:07. Men's Vet categories were won by: Matthew Glover MV40, Michael Furness MV50, Mike Clarke MV60, and Kenneth Fancett MV70.
First Lady was Jennifer Sangster of the Redway Runners in a time of 1:32:35 followed by Hannah Turner of Harpenden Arrows in 01:34:30 and Rosie Booth of Leighton Fun Runners in 1:41:32. Female Vet prizes were won by: Hannah Turner FV35, Jennifer Sangster FV45, Rachel Edwards FV55, and Diana Sandover FV65.
The team prize went to the Leighton Fun Runners: Ian Bisby, Michael Dudley, Paul House, Mike Clarke, and Kevin Hare.
Many positive comments were received and this from Instagram member 'the_naked_runner' represents the majority view: "I love this event. I think it's my 5th time doing it and by far the favourite route I've ever run! I love the combination of towpaths followed by some truly lovely trails (and a massive hill). I'm loving running right now!"
A final word from Race director Andy Hully: "We were so pleased to stage this event at such short notice after a year out due to COVID. We love organising races and seeing so many happy faces as they finish another challenging run. See you again mid-November next year."
Ends